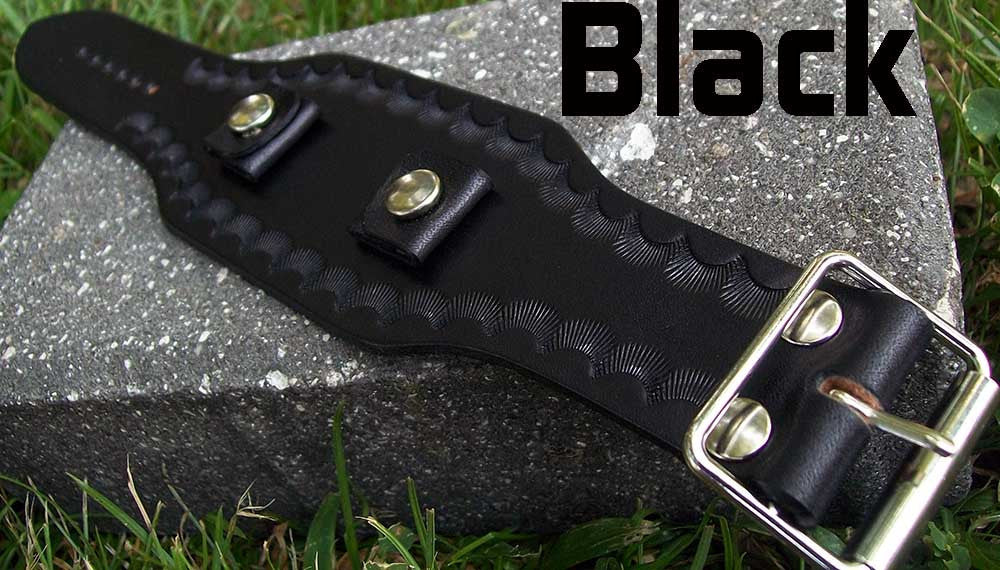 Tooled Leather Watch Straps | 2 Inch
$ 37.00
Handmade leather watch straps with a simple hand tooled scallop border design This style of handmade leather watch band is available in your choice of our plain and two tone hand dye colors. This leather watch strap is available in MEDIUM. Please view our Watchband Sizing Instructions before you order. We offer a wide variety of styles in our leather watchbands, so please look around before you buy.  Be sure to READ AND UNDERSTAND our sizing instructions before placing your order.  Just let us know if you need any assistance.
IMPORTANT:  MEDIUM size watch bands will fit an ACTUAL WRIST SIZE of 6 1/2 Inch to 8 Inch.
We offer this style in 2 INCH (51mm).  Our hand dyed colors from light to dark are: SADDLE TAN, MAHOGANY, NATURAL DARK BROWN (tooling left natural), ANTIQUE DARK BROWN (Tooling highlighted with Black Antique Stain), and BLACK.  Black is black.  Because we dye all items by hand the lighter colors will vary slightly from band to band. We also offer this style in our signature 2 Tone dye colors.  The 2 Tone Styles are $1 more.  For more details on our hand dye colors, check out the Our Process page.
2 Inch wide Tooled Leather Watch Bands - $37.00 & $38.00
WE DO NOT SELL ANY WATCHES.  The photographs of watch bands that are shown with watch faces were generously shared by a few of our many  satisfied Old School Leather Co. fans.  Share your photos on our Facebook page and help us grow our small business organically.  Keep the web free and open!
Related Products