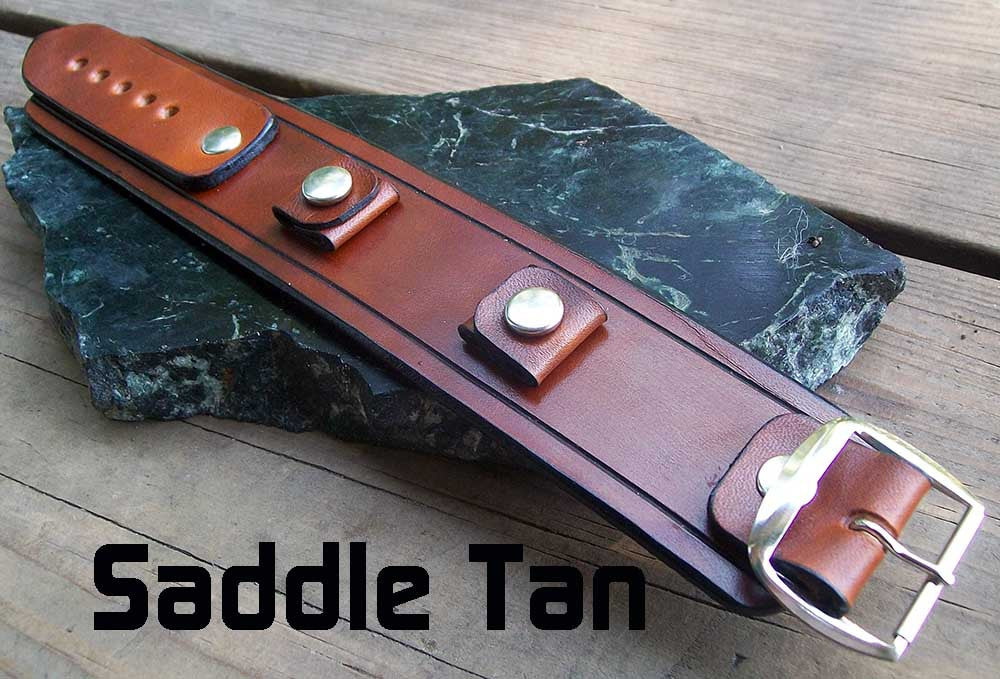 Plain & Two Tone Cuff Leather Watch Bands | 1.5"
$ 39.00
Handmade, full cuff leather watchbands designed to make a statement. This page features 1.5" wide custom made, hand dyed, full grain leather cuff watch bands in your choice of natural plain or two tone hand dye options  This custom watch band style is available in plain hand dyed colors without the grooved accent. Please read our watch band sizing guide before placing your order.
1.5 INCH (38 mm) wide. Our Plain hand dyed colors from light to dark are: SADDLE TAN, MAHOGANY, DARK BROWN/NATURAL, DARK BROWN/ANTIQUE and BLACK.  Black is black.  Because we dye all items by hand the lighter colors will vary slightly from band to band.  Learn more about our process.
Hand dyed two - tone colors from light to dark are BROWN/TAN. BLACK/TAN, BLACK/MAHOGANY, BLACK/BROWN.  The 2Tone colors are very rich.  This page may help you choose the perfect hand dye color for you.
WE DO NOT SELL ANY WATCHES.  The photos of bands that are shown with watches were shared by a few of our many satisfied Old School Leather Co. Facebook fans.
HOW ITS MADE:  We start with full grain vegetable cowhide of various weights (thickness).  The main girth of the leather watch band is hand built with 6/7 ounce leather.  We believe this to be an ideal weight for a sensitive area like the wrist.  This thickness will provide many years of service without remaining "stiff" like the heavy 9/10 ounce belt scrap leather watch cuffs that others are making.  The leather is conditioned along the way with oils and waxes. We use Fiebing's Professional Oil Dyes to change the colors. The edges are beveled, burnished, and painted black using Fiebing's Edge-Kote.  You would be surprised at the number of times each piece of full grain leather passes through our hands before final assembly.  The leather watch band you will receive is fully conditioned and ready for your use and abuse.  A new leather watch strap will seem a little stiff and awkward at first, but the break-in is brief and will begin as soon as you strap your watch band to your wrist. Our Process.
Related Products